Jumpstart Your System Re-Design with PureLink's Switching and Disbribution Solutions
Video technology in the digital world has been evolving at a lightning-fast pace. The introduction of 1080p TVs revolutionized the industry, driving the analog sunset and mesmerizing consumers with a new viewing experience. Less than ten years later, 4K, which, until now, has been employed in commercial digital cinema projection, is making its way to the consumer market.
What is 4K?
4K, under its official consumer label "Ultra HD," refers to one of two high definiton resolutions – 3840 x 2160 pixels or 4096 x 2160 pixels.
The term "4K" is derived from its approximately 4,000 horizontal pixel resolution, or four times the high definition resolution of 1080p. Current Full HD (1080p) implies a resolution of 1920 x 1080 resolution, which equates to just over 2 million pixels. Ultra HD, at a resolution of 3840 x 2160, is over 8.3 million pixels.
The pixel density of 4K resolution increases the potential draw distance of pictures, reproducing a more detailed depth than at 1080p.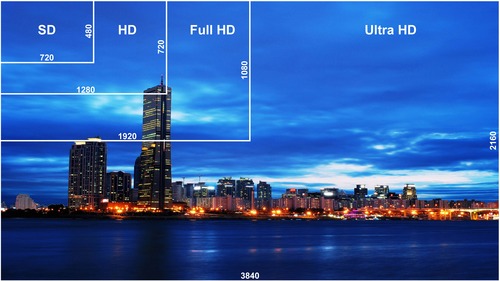 What Does This Mean For You?
Implementing 4K – 4K UltraHD needs to be considered in each system design. Already, there are sources and displays that support this format, including PureLink's PM Series switching and distribution solutions that are 4K-ready.
Long-term costs – The most difficult part of a system to redesign and replace is your connectivity network – switching, routing, and distribution – so it is essential to look at the long term costs of under-designing this aspect of a communications / media design. In fact, the cost of a 4K UltraHD distribution system is not significantly different than a 2K HD system.
Desiging a "future-proof" A/V system – It is important to choose gear that can support high bandwidth content and provide the flexibility to make adjustments to meet your system's changing needs without replacing the hardware. For example, selecting a video switcher that is modular and field-upgradable, such as PureLink's PM Series Matrix Routers, may be an ideal solution. A high bandwidth back-bone frame, combined with slot-loading I/O boards, provides a convenient, cost-effective solution in upkeeping your system when new HD standards with higher bandwidths are introduced to the market.
Stay tuned to learn more about PureLink's PM Series switching and distribution systems that are ready for 4K support.
PureLink offers a FREE system design service, complete with a diagram and quotation to match your design needs. Take advantage of PureLink's expertise and start planning now for your 4K system upgrade!